I
n August 2008 my son and I took a cruise out of the Port of Los Angeles on the Royal Caribbean Monarch of the Seas. The Port of Los Angeles is about 30 miles south of LA. We had flown into Orange County and had spent a couple of very hot days at Disney Land in California. Then we dropped our rental car off in Long Beach and took a taxi about 6 miles to the cruiseport where we boarded the Royal Caribbean ship.
It was a four day cruise to Catalina Island and Ensenada, Mexico. We really enjoyed the cruise and visiting Catalina. Ensenada was ok. It was an ok Mexican town.
I am a shopper so we went shopping and I found this totally awesome purse. I paid about $57 for the Belle Rose Purse. The quality reminds me of a Coach bag but for a much lower price. The purse is 2 years old. Since purchasing it I have used it probably 50% of the time and it is showing hardly any signs of wear. When it gets completely worn out I will be really bummed so I have been looking for Belle Rose bags to be listed on ebay and I even purchased one and have it packed away in my closet for the day when I need it. I have even get compliments on the purse from men like from my Dad. I couldn't believe it.
Check back later and I will post a photo of the Belle Rose purse. Below are some items I created on Zazzle with my Catalina Island travel photos.
Catalina Island Mousepad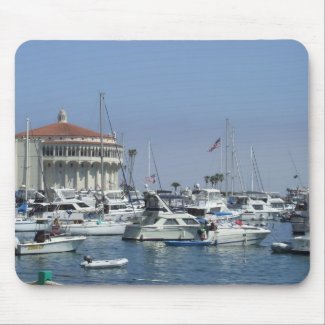 After leaving the cruise ship we rented a car and drove to LAX where we had an early flight home the next day. We stayed at the Renaissance hotel and reallly enjoyed our short stay there. The car rental return was just down the street so it was closeby. There was a Burger King across the street. We were fooded-out from all of the food on the ship.
Just in case you are travelling through Los Angeles and find your self needing
Los Angeles auto repair
. Repair Pal is a company that specializes in providing prices online for car repairs to auto owners.
So if you are visiting Los Angeles and the
head gasket
on your
Honda Civic
decides to conk out then its good to know there is someone available to help you.