On my most recent trip to Cozumel, Mexico which was aboard a Royal Caribbean cruise ship in January of 2010 I snapped this photo of the island as our ship was approaching Cozumel. The weather was a perfect 80 degrees. I had visited Cozumel twice as part of a cruise itinerary and really enjoyed it. On our most recent trip my son and I visited Chankanaab National Park and enjoyed a day of the sun, sand, and tropical blue water. My husband stays home when we go on cruises because he might get seasick, might get claustrophobic in the cabin, might get Norovirus, etc. Please watch for my post on Chankanaab National Park comning soon!
On my first cruise vacation visit to Cozumel in Feb of 2008 we went shopping in downtown San Miguel. The shopkeepers are very anxious for you to go into their stores and even borderline on being a little bit aggressive. Some of the shopkeepers stand outside their stores and invite you in as you pass by. I bought a beautiful black onyx necklace that I have yet to wear and my son got a colorful purple striped Mexican blanket for $5.
Cozumel Island Tropical Blue Water Poster from Zazzle.com
Cozumel Island Blue Water Tropical Postcard from Zazzle.com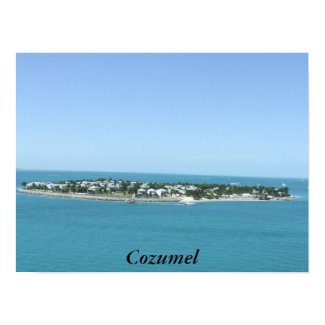 Design
personalized gifts
at Zazzle.