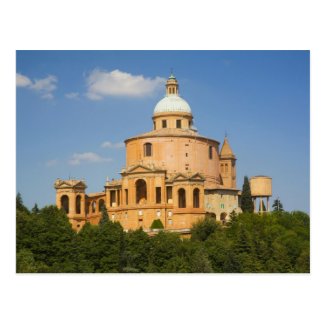 Italy, Bologna, Sunny Day with Portico di San Post Card
by
danitadelimont
See more
Terry eggers Postcards
Wonderful Aceto Balsamico Tradizionale (Balsamic vinegar) has been made and enjoyed in Modena for centuries. True Balsamic is an artisan product which has been made in Modena as far back as 1046, when in it mentioned in a document. It is not a wine vinegar which has been matured, as many people think, but is made quite differently.

The basic ingredient is grape Must (juice) from predominantly Trebbiano grapes (sometimes with the addition of Lambrusco grapes). The must is simmered (never boiled!) for a lengthy period to reduce and concentrate the liquid. This liquid is then allowed to ferment and mature for a minimum of 12 years in the case on a "true" Balsamic. It is a laborious process! From the first, largest cask, the precious liquid is gradually transferred each year to ever-smaller casks, each made of a different wood such as chestnut, cherry wood, ash, oak and mulberry, each of which imparts its' own flavour and character to the vinegar. When the first portion is removed from the largest (Mother) cask, this cask is topped up with Must from the latest harvest, so the production is a continuous cycle.

During the maturation, a portion of the liquid evaporates (the Angel's share!) and the final product is rich, thick, dark and luscious! This genuine article will be marked "Tradizionale" or D.O.P. and, as you can imagine, it is very expensive. It is only produced by 2 consortia, Modena and neighbouring Reggio Emilia. The two regions use different ways of designating the ages of their product, Reggio Emilia by label colour (red label – at least 12 years; silver label at least 24 years, gold label 28 years) and Modena by cap colour; a cream cap means that the vinegar is at least 12 years matured while a magenta cap would indicate the product is extra old, in excess of 25 years maturation.

It would be considered terribly wasteful to cook with this product! It is generally used, by the drop…no more…to dress a lovely slice of Parmesan cheese, top a sliver of prosciutto or to anoint some fresh strawberries. The very old product – matured for more than 20 years sometimes, is even drunk as a Digestif! This is truly Italian "Black Gold".

A cheaper version does exist, thank goodness! Cheaper Aceto Balsamico di Modena IGP is made along the same lines as described above, but often wine vinegar is added and this product is not aged as long; the result is still delicious but not as intense. Sometimes these versions are flavoured with caramel and thickened to imitate the original, so it is worth checking the label for ingredients. This is the type of Balsamic widely sold outside of Italy and used for salad dressings, marinades, etc. You can easily make your own Balsamic Reduction from this vinegar, evaporating off some of the liquid to concentrate the flavours. It could never be the same as "Tradizionale", but it is a great kitchen stand-by!

Less than 13000 litres of "Black Gold" is released each year, making it very valuable indeed. The best way to learn even more about this famous Italian export is to take time to visit a producer. Balsamic vinegar tours are available from Bologna, Parma, Reggio Emilia and Modena to show you how it is made and more about its' history.